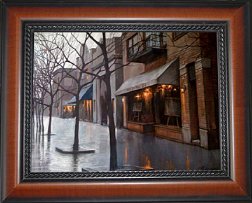 "PRE-SHOW" OFFERS WHILE SUPPLIES LAST
Remember, if you can't attend the May 18th event… We'll still honor the FREE frame and will make sure your Butirskiy gets on the artist's easel for the show remarque and dedication.
FREE "Twilight at Piccadilly's"
For all pre-orders for the new Platinum Edition or Artist Proof edition, you will also receive a framed "Twilight at Piccadilly's" as our thank you gift.
Supplies are very limited and this offer only applies for the Platinum and Artist Proof editions.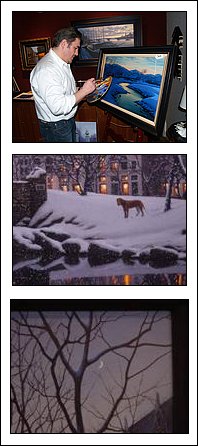 ARTIST EMBELLISHMENTS
With your purchase, your artwork will be placed on Butirskiy's easel, and he will add extra paint to your canvas, dedicate the back, and re-sign your work. Personal dedications will also be available.
How about adding your puppy to the painting or a crescent moon peaking between the trees? These are just some suggestions to add to your piece to make it yours.
IF YOU CAN'T ATTEND… No Problem
Just tell me what dedication you would like on the back of your canvas and I'll make sure that the artist completes your wishes. When you call 888-579-4300, we can make all the decisions about framing, dedications, and extra embellishments and I will guarantee your satisfaction.
INTEREST FREE PAYMENT PLAN
To secure your place on Alexei's easel, we are requiring a 50 percent deposit. Your final payment will be made the day of the show.
LATEST ORIGINAL OILS
Over a dozen new originals will be shown for the May event. Alexei will have original watercolors starting around $2,950.00, original acrylics starting around $8,500.00 and oils on canvas starting around $14,500.00. Interest-free financing is always available.
If this is the year to add an original to your wall, we have some very special incentives that will save you a lot of money.
A complete "unpublished" listing of all oils, acrylics, watercolors and drawings are available upon request. Just e-mail me at fineart@piccadillys.com and I will send you the link and provide you with pre-show details. Special "pre show" pricing on any commissioned work is also being offered with interest free payment plans.
Hope you take advantage of our special offers.
Remember, these offers are for "pre-order" works during the month of April.
Order today and save.
Thanks for your interest and your time.
PJ Campbell
fineart@piccadilly.com
www.piccadillys.com
888-579-4300
Become a fan of Piccadilly's by following us on Facebook.
PS: These offers are only valid in April.
Don't delay.
Join the Butirskiy Show mailing list for current updates.