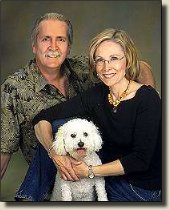 Piccadilly's Personal Update:
We're moving on....
It has been a little over two years since we moved from Cleveland, Ohio to Naples, Florida. In that time, we took on the responsibility of being caregivers for Barbara's 94-year-old mother. It is the first time in our 44 year marriage that we've had her under our roof and we have found out that it is a 24/7 commitment.
Her mom, who suffers from cognitive impairment, is a survivor of World War II and an immigrant from Poland. She witnessed, first hand, the atrocities of that war.
With all this being said, I've come to the realization that I can no longer operate a brick-and-mortar or continue to run the website at Piccadillys.com the way I want to.
In the future, however, we will be expanding our Closeout Page to include many of our personal collections from the 30 years of business.
Did you know that our website, Piccadillys.com, first went on line in September of 1996. We were pioneers in, not only the art world, but also in the entire retail world for posting images, updates and information online.
Over 50% of our sales over the last 10 years has come directly from our website, and we've shipped artwork all over the United States, Canada, Europe and Australia.
If you know of young entrepreneurs who are considering expanding their website or acquiring a turnkey operation, tell them to send me an email at PJ@Piccadillys.com and I'll be happy to discuss some of the intricacies of the site.
In the meantime, check out our Close Out page for new images that are being released to the art market.
Thank you for all your support over the decades.
PJ Campbell
Owner
216-401-2227 cell
Piccadilly's Fine Art Galleries
Naples, FL