Thomas Arvid
An American Original Blends Art and Wine on Canvas
Renowned artist Thomas Arvid, who paints monumental, photo-realistic images of wine and the pleasure surrounding its consumption, has become synonymous with the wine lifestyle.


Arvid was named one of the top "25 Artists You Should Know" by

US Art

magazine.

Arvid is a self-taught painter from Detroit, Michigan.


When Thomas Arvid began to focus on wine as an artistic subject, rendering it approachable, friendly, and provocative, he "launched a movement" according to

Art Business News

that has intensely popularized his paintings.


With art in more than 50 galleries across the US and as the Celebrity artist at many high-profile Wine and Food events (like the recent

Pebble Beach Wine & Food

), Arvid spends much of his time on the road meeting and greeting old and new enthusiasts.


While Arvid's intentions are to make wine and art accessible, the popularity of his work has created such demand for his paintings that they are rare and expensive. New releases sell out quickly, and his commission list has reached a four-year wait for new works.

Winding Down

, his newest release, was just sold for 120,000.00 to a collector in California.


As Arvid becomes recognized more and more as the purveyor of fine living, the public -and consequently, the media - has continued to look to him for advice, knowledge and expansion of his philosophy and way of life. Learn more at

www.thomasarvid.com




Featured Media events:
Thomas has been featured in/on USA Today, Delta Sky, The Atlanta Journal-Constitution, Chicago's ABC Channel 7, Art Business News, Chicago Sun Times, San Francisco's View from the Bay, Atlanta Homes and Lifestyles, DiningOut, Wine Enthusiast, Wine Savant, DC Examiner, Las Vegas Review-Journal, Atlanta's CBS 46 Better Mornings, and countless others.
Arvid's first book, Thomas Arvid: Redefining the Modern Still Life, was a huge hit in 2004, and he is now working on his second book - look for it in the coming year!
Questions and Answers with Thomas Arvid
1. Thomas, please explain your work.
Arvid: I try to translate the sensory experience of wine onto canvas through over-sized, realistic portraits of moments shared over a bottle of wine. Wine is such a beautiful catalyst. Many still life's say 'don't touch me.' People think that art is for an elite group of people to enjoy - art is for everyone to enjoy - much like wine. By bringing art and wine together in realistic but unpretentious scenes, I want to break down traditional barriers surrounding both. My pieces are about getting a bottle open and sharing a glass with friends. People can connect to my paintings.
2. Why have you chosen to paint wine? What about it makes it a good subject?
Arvid: "Wine is such a beautiful catalyst. If you are open to living, the painting will present itself to you. I love my place at the intersection of the two art forms - the connection between art, wine and life itself is at the forefront of my work. I love to capture the special moments we share with friends and a bottle of wine.
Even before I painted wine images, I was painting images that were red, yes, but mostly it was about comfort. Those familiar objects - Radio Flyer wagons, crushed Coke Cans - they evoked a response. And my works today aren't so much about the bottles and the labels; I'm creating an informal landscape that falls between two people. It's about the comfortable moment. The bottle, the knife, the corkscrew, the cork, the foil crinkled up, at random. That moment of 'I'm so glad you stopped by,' sitting at the counter sipping and talking about kids, career, stuff. When you open a bottle of wine, you slow down and open up."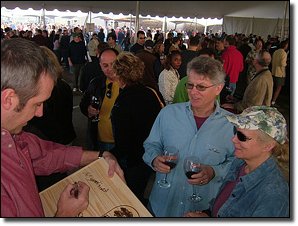 3. Most artists prefer the seclusion of their own studios, but you frequently are found painting in public… Why?
Arvid: "This is true! Whether I'm on the road, at a wine tasting, on a plane, I love finding "my studio" wherever I may be amongst the public. At the beginning of my career, I went on a backpacking trip to Europe with my wife, Vanessa, and I was very impressed by the way Europeans treat artists, and the way artists approach their work. They set up their easels and work out in public. People come around and buy the paintings - It's a beautiful thing. I wanted, and still want, to be out in the world connecting with people."
4. How do you choose a wine to pair with each meal?
Arvid: "People can get caught up in the "right" or "best" wines to drink. Wine is more of an expression of personal feeling, choice, and mood. You do not need to be so much knowledgeable about wine, as comfortable and experienced with it. The more experiences you have in drinking wine, the more knowledgeable you become about how it fits into moments. The best way to learn is by drinking and experiencing - you'll not only gain knowledge,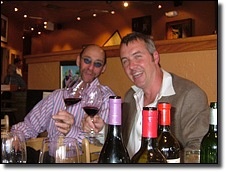 you'll also gain stories and memories. Each person is ultimately their own wine expert. Eventually, you will learn how to pair wine with not only food, but also to a gathering, to people, to an event."
5. Has wine become somewhat of a lifestyle for you?
Arvid: "Yes, it is a lifestyle based upon the simple pleasures of life: good friends, good food, natural and beautiful surroundings. Much of it goes back to the fact that winemaking is an agricultural undertaking - it is rhythm with the earth; it is done by farmers; it is crafted over time and with care. The meals you eat are of simple, fresh ingredients, thoughtfully prepared and presented with care and warmth.
It is also about taking what you have and making it spectacular and being aware of the pleasure of finely crafted things. Wine can inspire you to make wonderfully engaging and special times. The care that you put into a wine experience mirrors the care taken in crafting the wine and is ultimately embodied in my work, which captures all of those elements in my own craft."
.