Butirskiy Show Keepsake Package
Order your piece today and receive our Butirskiy Show Keepsake package for your lasting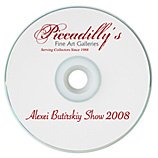 enjoyment. The package will include the following:
A DVD with highlights from the Butirskiy Show and after show dinner party.

An open edition watercolor sketch titled Twilight at Piccadilly's, painted by Alexei and suitable for framing.

Artist's photo and bio page.
Butirskiy Show Specials:
90 day Interest Free Financing for all limited editions

4 month Interest Free Financing for all original oils plus a travel voucher

Free shipping and home delivery

Dinner with the artist on Saturday night at Lago's Italian Restaurant
Originals Oils
Original oils are in high demand and short supply. We are hoping to debut 6 to 9 new works, which will be posted on the Butirskiy Originals Page when they become available. If you wish to be notified to preview the new works, please call or send e-mail to Fineart@piccadillys.com and indicate your interest. (888-579-4300)
A $2,000.00 travel voucher will accompany any purchase of original oils on canvas for the show.
Hotel Accommodations
We will be booking rooms at two local hotels for your convenience. The Marriott Hotel in downtown Cleveland is ten minutes away from Tremont and Piccadilly's Fine Art Galleries. A second hotel at the Holiday Inn in Independence is just 15 minutes from the gallery.
For all of our out-of-town guests who are looking for something to do during the day, please visit Positively Cleveland for events around town or Historic Tremont for neighborhood activities with maps and directions.
We're looking forward to seeing you at our Signature Art Show for art lovers.
Sincerely,
Barbara and PJ Campbell
Owners,
Piccadilly's Fine Art Galleries
Cleveland, OH
.