FREE FRAME
We are offering you a FREE frame with your purchase of any limited edition. This offer will save you up to $500.00. You can choose between three of our most popular museum frame presentations: the black distressed scoop frame with gold, our two tone burl or our ornate brown sugar with antique gold lip..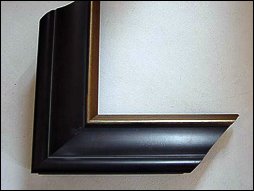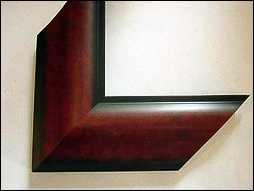 If you like our silk liner presentation, our framer can build that for only $100.00.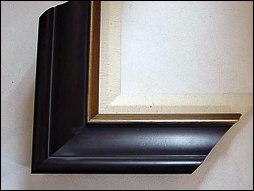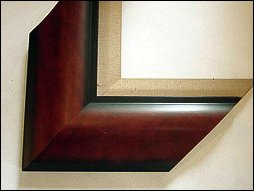 Order your Butirskiy today to qualify for the FREE frame special.
Here are some of the "testimonial" letters we received from last year's show.
FREE FRAMED MINIATURE BUTIRSKIY OR FREE SHIPPING/DELIVERY. YOU DECIDE!
With your purchase, you can choose either FREE shipping/delivery or a framed miniature giclee (a $195.00 value.)
If you like the idea of a Butirskiy miniature, you can choose between "A Room with a View" or "A Cold Winter's Night" or "April in Paris." These framed miniature giclees will be about 12 x 16 and perfect for a smaller wall in your home or office.
I'm sure they'll make perfect gifts as well.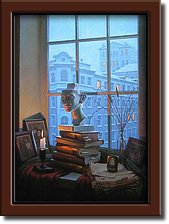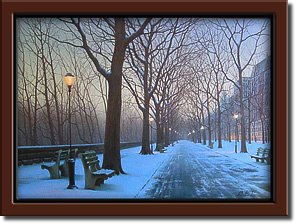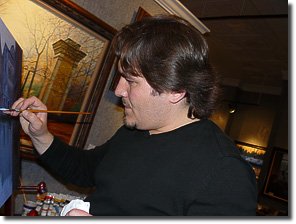 ARTIST EMBELLISHMENTS
With your purchase, your artwork will be placed on Butirskiy's easel, and he will add extra paint to your canvas, dedicate the back, and re-sign your work. Personal dedications will also be available.
IF YOU CAN'T ATTEND
No problem. Just tell me what dedication you would like on the back of your canvas and I'll make sure that the artist completes your wishes. When you call 888-579-4300, we can make all the decisions about framing, dedications, and extra embellishments and I will guarantee your satisfaction.
INTEREST FREE PAYMENT PLAN
To secure your place on Alexei's easel, we are requiring a 50 percent deposit. If you like, you can pay your balance in two equal payments....all interest free, of course.
LATEST ORIGINAL OILS
Over a dozen originals will be hanging in the gallery for the May show. Alexei will have original watercolors starting around $3,750.00, original acrylics starting around $7,500.00 and oils on canvas starting around $14,500.00.
Interest-free financing is always available.
A complete "unpublished" list of all Butirskiy originals is available. Just send me an e mail at fineart@piccadillys.com and I will send you that "private" link.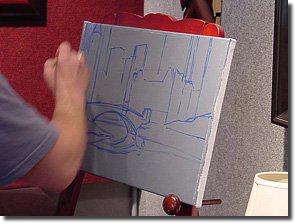 HAVE YOU CONSIDERED A COMMISSION?
Have you ever thought about getting Butirskiy to commission a work just for you? I personally love commissions and own three Butirskiy originals. With a commission, you have the ability to control the price by selecting a size that is in your budget. Also, you can control some of the composition.
With Butirskiy's popularity growing by leaps and bounds, I'm not sure how much longer we will have this opportunity. My personal goal is to add one more to my collection.
Call 888-579-4300 to place your order or visit our Butirskiy Gallery to preview his complete collection.
The artist will be in the gallery from 6 to 9 pm on Friday and Saturday evening, May 21 & 22. Fine wines and light hors d'oeuvres will be served.
Hope you take advantage of our special offers. Remember, these offers are for "pre-order" works during the months of March and April. Order today and save.
PJ
Become a fan of Piccadilly's by following us on Facebook.

PS: These offers are only valid in March and April. Don't delay.
Join the Butirskiy Show mailing list for current updates.