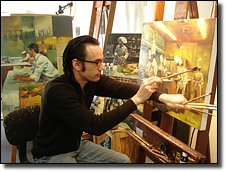 In the garden of an artist's soul, seeds of creativity take bloom in many forms. Pods of inspiration burst and give birth to new works of art to nourish our life's craving for beauty. Contemporary artist Christopher M. continues his culinary legacy with delicious fervor as he paints the "maîtrise de chefs" a tribute to the culinary arts. Christopher M.'s collection is sure to satisfy even the most discriminating palate.
The expressive, realist paintings of Contemporary painter Christopher M. remind us that artistic talent fused with good old-fashioned values never goes out of style. Creativity, beauty, integrity and hard work are constant companions to this artist's paint and canvas. Click here to read more.
Piccadilly's Fine Art no longer represents the work of Christopher M.