Each hand-drawn sketch will be an original, and Alexei will be adding one or two colors to each pen and ink sketch the weekend of the show. Stop in and watch the artist put the finishing touches on your sketch.
If you have made your purchase in the last 30 days, you automatically qualify for the sketch. Just give me a call and make your selection. Supplies of these sketches are very limited so don't delay.
BUTIRSKIY ORIGINALS
Alexei just got back from Paris where he has been creating smaller original works. We will have a large selection for you to choose from. Visit our Butirskiy Originals Gallery to view some of the work that will be available. His smaller works, by the way, will be more affordable for many of our collectors who are wishing to join the Butirskiy Originals Club.
Look for the new original images in the weeks to come and don't forget to ask about our interest-free financing programs.
ARTIST PROOF EDITIONS
Once again, Artist Proof editions will be available and with all artist proofs, Alexei will be adding his hand-drawn remarque sketch to the back of your canvas.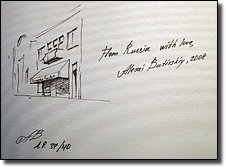 These sketches are very rare and quite valuable. Place your order today to guarantee placement in the show.
Supplies of the Artist Proofs are very limited.
IF YOU CAN'T ATTEND
I will make sure your artwork gets on to Alexei's easel for extra embellishments plus a dedication on the back of the canvas, just in case you can't attend out show.
HOTEL ACCOMMODATIONS
If you are planning to attend the show from out of town and need hotel or directions, please let me know so I can send you information.
If you have other questions, please give me a call at 888-579-4300.
Thanks for your interest and your time.
Sincerely
PJ Campbell,
Owner
Piccadilly's Fine Art Galleries
Cleveland, OH