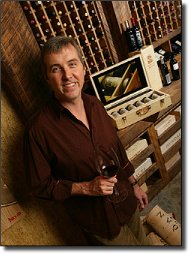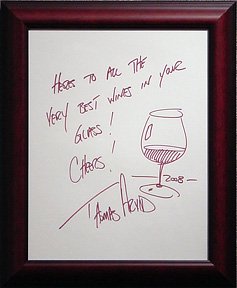 SHOW DATES :
October 16th - Private boutique wine tasting in Solon, OH,
October 17th - Five course dinner and wine paring at Fleming's Steak House at the Eaton Collection. Click here to read the menu, Or visit Fleming's Prime Steakhouse.
October 18th - Thomas Arvid debut and wine tasting at Piccadilly's Fine Art.
Thomas Arvid Returns
We are honored to announce the return of Thomas Arvid, October 16th, 17th and 18th.
On October 16th, Thomas will be attending a private party in Solon, Oh.
On Friday, October 17th, Thomas will be at Fleming's Prime Steakhouse and Wine Bar at the Eaton Collection. Fleming's will be presenting a five-course dining experience with exquisite wine pairings. Visit our Fleming's Menu link to view the parings.
The Fleming's dining experience will cost 150.00 per person but if you tell Fleming's that PJ sent you, you will be charged only 125.00 per person. Reservations can be made by calling 216-896-9000. Don't forget to mention PJ's name.
Fleming's will also be giving each couple a very special bottle of Pouilly-Fuisse called 46 Diamonds. This exceptional bottle of Chardonnay will be personalized by Thomas Arvid that evening. Thomas has a particular affinity for this bottle because his painting titled Les Bouchons was chosen by Fleming's to be the label for their first-ever Flemings' Reserve.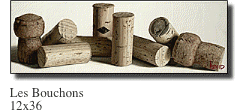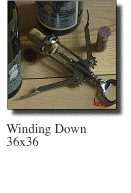 On Saturday evening, Thomas will be at Piccadilly's Fine Art Galleries for the debut of his newest piece called Winding Down. Silver Oak fans will want to add this to their collection.
If you purchase any limited edition between now and the show, you will receive a framed Original Sketch by Arvid. Each one-of-a-kind Original Sketch will come framed and with a certificate of authenticity that you can proudly display in your office or home. It's free with a purchase.
Along with the framed sketch, your limited edition will also get a Remarque on the back of your canvas, making your piece even more rare and valuable. Order yours today!