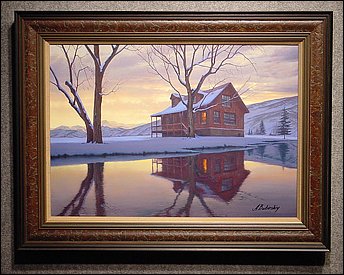 Did you know when you walk into a person's home, the first thing you notice is what's on their walls? You won't notice the expensive couch, oriental rugs or furniture - it's always the collection on their walls. And what's on your walls will send a stronger message about you and your taste than anything else in your room. Your art has the same impact as the car that sits in your driveway.
There are many reasons for acquiring fine art besides making a good impression:
FIRST, there is the immense pleasure in having an art collection. It brings beauty into your home and enhances your everyday life.
SECOND, most collectable, recognized art increases in value over time (consider, for a moment, the immediate depreciation of many purchases: the expensive couch, big screen TV or that Armani suit).
Your artwork is meant to be enjoyed and passed on to family members.
WHICH TYPE OF ART SHOULD I BUY?
The type of art you purchase is a very personal and subjective issue. There are those who believe that buying original art is the only way to collect art and that reproductions have no value. The truth is they both have value, especially if the reproduction is from a nationally recognized artist who creates small, hand-embellished limited editions.
Today's technology allows recognized artists to reproduce their work on canvas, creating a work of value and beauty without a high investment.
GLOSSARY:
PAPER PRINT - Lower end reproduction or poster art.
SERIGRAPH - A high quality silk printing or silk screening on canvas made totally by hand.
GICLEE - State of the Art, high quality canvas printing made by digitally capturing the original image and then "spraying" the carefully selected colors onto the canvas.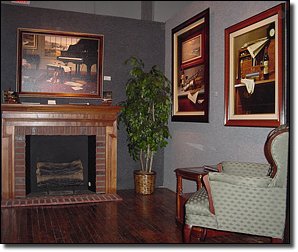 HOW DO I KNOW I'M GETTING A GOOD PRICE?
Shop around. If this is your first time buying art, it's understandable to have reservations about the price.
Did you know that our publishers set our issued prices and we honor those prices?
Publishers know that each gallery has a different operating cost. They permit galleries to sell above the suggested Publisher's issue price. They do not, however, permit galleries to sell below their suggested issue price.
Piccadilly's honors those issued prices set by our Publishers. We do not play the game of raising the price to allow for false negotiating, nor do we negotiate the current price of the art in the gallery. You're not buying a used car; you're buying a fine piece of art for your home.
Your satisfaction is guaranteed and these services are what makes Piccadilly's Fine Art Galleries your choice for fine art:
Prices set by our publisher.

Elegant custom framing that is the perfect compliment for your artwork and your home.

Three month return policies and interest free payment plans to make your purchase enjoyable and affordable.

Free insurance appraisals for purchases made at Piccadilly's Fine Art.

Free in home consulting and delivery service.
COMPARE OUR POLICIES
Permit us to appoint your home or office with beautiful, collectable fine art from Piccadilly's. Bring home the beauty and status of collectable art from Piccadilly's Fine Art Galleries (in historic Tremont)
.