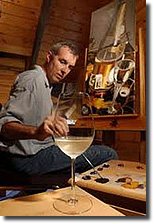 This month is very poignant for many Americans because we reflect back to the horrific events of September 11, 2001.
Many of us lost loved ones, and I was personally affected by this tragedy, losing a dear friend who was on the 100th floor of the North Tower.
We have a very special offer for this month's Arvid titled "In God We Trust."
We are giving away an etched bottle of the Sherwin Family Cabernet with the American Flag with all framed purchases. Imagine having Arvid's "In God We Trust" hanging on your wall and next to it the etched bottle from the painting?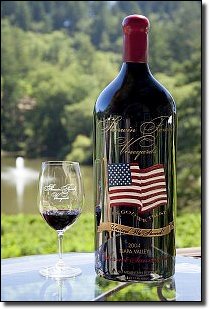 (Here's a brief story about the etched bottle.)
Right after the attack on America in 2001, the Sherwin Family, community minded and deeply patriotic, decided to create an etched, hand-painted wine bottle that was to be a commemoration of the events of September 11 with proceeds going to the families and charities that supported those efforts.
The wine bottle, from their "Patriot Pour" Collection, was the first wine bottle ever permitted to display the American flag design on it, meeting the rigid approval of the Bureau of Alcohol, Tobacco, and Firearms.
The full story of the Sherwin's efforts to get the government's approval can be found on this link.
Arvid's latest work highlights the Sherwin Family Vineyards and he has created a stunning composition featuring the American Flag bottle with brilliant colors and smooth curves. Here is the suggested framed presentation using our famous natural cork liner.