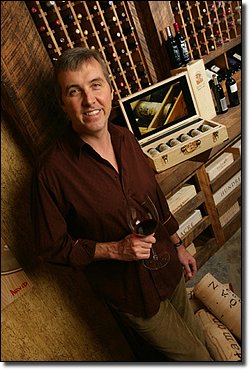 Thomas Arvid, through his stunningly realistic compositions of wine, has redefined the modern still life, setting an unmatched precedent in the art world. Thomas Arvid's art is breathtaking and remarkable.
Uniting a remarkable eye for photo-realism with a genuine talent for abstract composition, the self-taught Arvid offers an innovative commentary about a familiar subject, one he finds inexhaustible.
As Arvid explains, "with my paintings, there is never a complete subject; everything is interrupted. I show fragments of things and your mind creates the rest of the image.
Wine is a great subject for this because it has so many elements: hot and cool surfaces, fluid, wood, chrome, cloth. But most importantly, it is familiar. You know it, so your mind fills in the composition with your own experience." When you buy Thomas Arvid artwork, you will completely understand.
Acclaimed for its ability to capture a traditional subject in a startlingly new style, Arvid's work has been featured in many influential publications, including Wine Spectator, US Art, Decor, Points North and Art World News.
His talent and influence on the art world were the focus of a recent Art Business News cover story.
Thomas Arvid's natural charisma and infectious enthusiasm for wine and art impress critics and collectors alike. Ultimately, Arvid's dedication to growth as an artist and a cultural voice stems from his desire to communicate his joy to others. "My art is about so much more than wine. The paintings, like wine, are about celebration, sharing a moment and an experience with another person. My pieces are successful when I evoke an emotion, memory, or thought that the viewer wouldn't have experienced otherwise. Wine and art are vehicles to communicate the pleasure of human experience."
Thomas Arvid's art is for sale at some of the finest art galleries in the country, and Piccadilly's Fine Art is proud to represent Thomas Arvid fine art for over a 15 years.